13.07.2022
Metadynea will build a cooling tower at Gubakha industrial site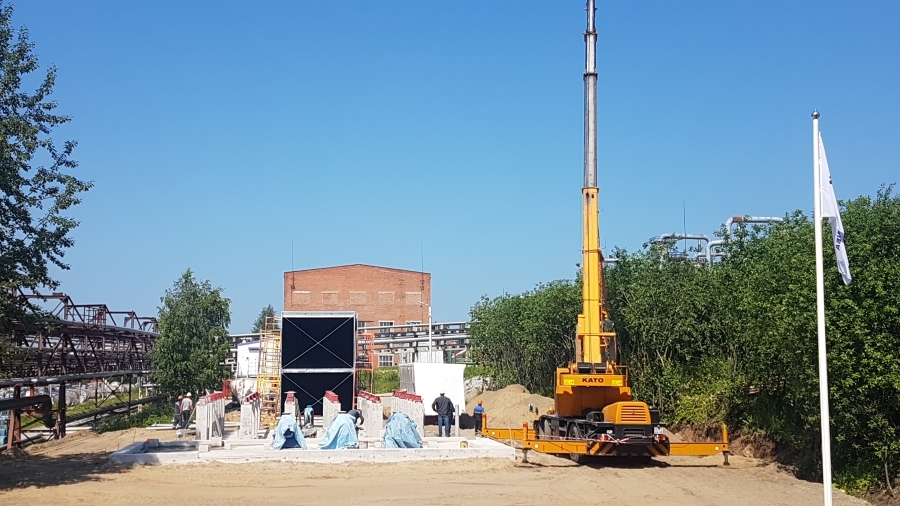 Construction of in-house system of cooling water cycle will allow to increase stability and reliability of resins production in Gubakha.
The investment project implementation at Metadynea LLC site in Gubakha (Perm region) proceeded to construction and installation works phase. There are ongoing works on assembly and installation of water cooling unit with capacity of 1250 cubic m/h on the basis of Marley mechanical draft cooling tower. Total investments in construction of the facility and infrastructure are estimated in amount of 160 million rubles.
At the production site were finalized the works on installation of foundations for equipment of the new cooling tower. The facility will provide the resins production with sufficient quantity of water for normal behavior of technological process and cooling of finished product.
"At the moment the capacities of existing PJSC Metafrax Chemicals cooling tower are used", clarifies Metadynea LLC Gubakha division director Denis Gutauskas. "However due to commissioning of additional production capacities last year it was decided to start an investment project on construction of in-house system of cooling water cycle.
The project infrastructure will also include a modular pump house with equipment, instrumentation and automatic control system, a station for reagent and biocid cooling water treatment Nalco 3D Trasar, cooling water storage tank and cooling water pipelines.
"Use of advanced technologies, which have already proved their efficiency, is a crucial condition for us in the investment projects implementation", explains Metadynea LLC general director Igor Spasskiy. "In this case, creation of in-house cooling system on the basis of Marley mechanical draft cooling tower and mentioned infrastructure equipment complies with modern ecological environment requirements, and it's aimed to increase stability and safety of all resins production in Gubakha.
Commissioning works for the new system of cooling water cycle are scheduled to the fourth quarter of 2022.
"At the moment the cooling tower equipment, which was delivered to Gubakha site by the project general contractor INSPRO LLC, is being assembled and installed", adds the project manager Andrey Polovodov.